Find The Treasures In The Silence III – My Personal Journey Into Silence
Would You Like A Hand To Become A Great Meditator?
In the second part of this blog, you could follow my steps learning how to quiet my mind. You could see that this wasn't an easy journey. But, it was fun though, and it is still to look back and reflect it together with you! 🙂
I did mention already my experiments with the Hemi-Sync-Suite in the prior post. It was the beginning to start using additional technology to train my mind. For some reason, I quit listening to Hemi-Sync-Suite after about two years.
What I often used was Hemi-Sync healing music. Practically every day I used to listen to the sounds of nature and the brainwaves and relaxed. Not sure, how much stimulation was there by the brainwaves for I haven't used headphones.
As my own boss, I experienced the blessing and the curse of doing everything myself. I knew I needed to be creative and efficient to be able to compete in the with coaching offers overloaded town as Bremen was. I tried to exercise on a daily basis and implemented short breathing exercises into my day.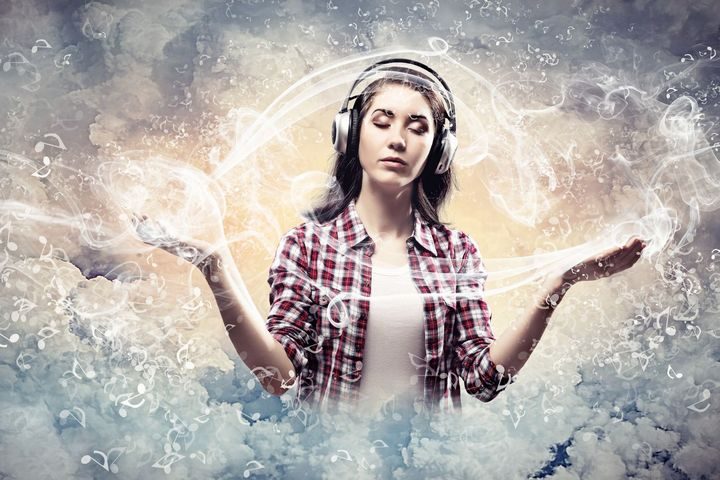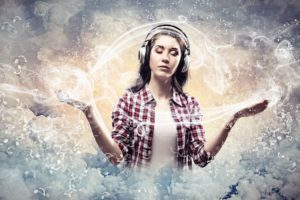 I was also looking simultaneously for new ways to improve my performance. I tried different brainwave programs as i.e. Jeff Gignac or Solfeggio Harmonics tracks which were created to help busy people like me with better sleep, healing, relaxation, and focus.
I used a free audio track by Karl Moore that was supposed to generate Alpha waves in my brain, calm it down, but also speed up brain processes while I was working. That track was 15 minutes long, and I could listen to a little creek flowing through the forest. I loved that audio and listen to it many times a day, and often while writing, creating seminars and workshops for my clients and students.
In 2013 I ended up to become a member of a meditation program called Holosync. With this brainwave technology, I was able to noticeable accelerate the speed and the freedom of my thinking processes and pathways.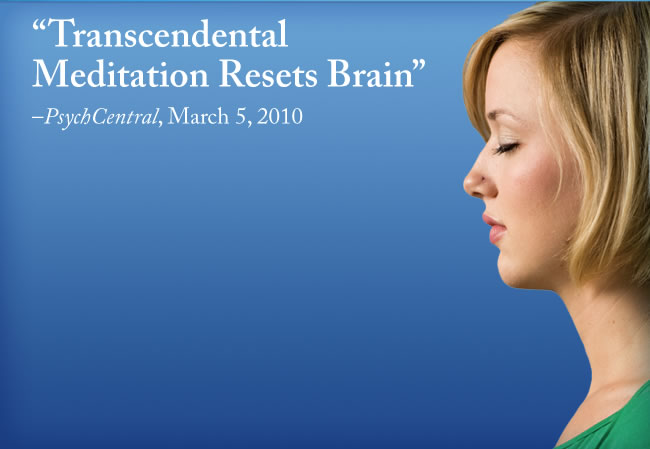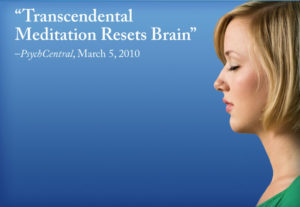 In 2015, additionally to the meditation with Holosync, I did the training for the Transcendental Meditation and started the Meditative Yoga to experience more calmness and peacefulness as a complete mind and body experience.
In this post I like to give you an overview of four different Brainwave Entertainment Programs I use and experiment with:
• The Holosync Awakening Prologue
• The Zen12 Meditation Program
• the brainwave meditation and healing program Heal Yourself
• and the Brainwave Meditation Program The Missing Link
I will share detailed experiences with those programs under Condemnations soon. You can already look forward to it!
The Holosync Awakening Prologue
I used the Holosync Meditation Program for over three years, and it made a great impact on how I developed myself and how I profoundly changed my entire life circumstances. During that time I developed tons of training programs for my clients and students, and my courses at the university were booked out almost every time with long waiting lists to opt into the courses.
During that time I also wrote and published four books, and got done an English translation of one of my older books. In 2015 I was able to allow myself a three-month journey to Hawaii to volunteer in a Meditation Yoga Retreat Kalani Honua where I met my husband. In 2016 I was able to handle my own business Vocusi, a full-position as a coach at the university and the immigration process.
The immigration process in the U.S. can be very challenging. However, in my case, it took about six weeks! After submitting my application on May 9th and after my interview at the U.S. Embassy in Frankfurt on July 21st, I instantly received my Case Package. Instantly means on July 22nd. Wow! In September 2016 we returned together to Hawaii.
The Holosync Meditation Program altogether contains 13 levels. The Awakening Prolog is the entry-level program to the deeper levels.
When you listen to that program, the world around you becomes quite. Also, your inner world calms down. You become deeply quiet for one hour. And you will take over the peacefulness into your day. Everyday step-by-step you start to make different decisions and your life starts changing. You will see more, hear more and feel more.
I'm still using Holosync at this moment at Purification Level 4 what means I'm at the 8th Level of the meditation program. More details about Holosync Awakening Prologue you will find on my website under the menu Commendations soon.
The Zen12 Meditation Program
The Zen12 Meditation Program is another Meditation Program I currently use and that I love to introduce you to it. This program is the perfect fit for my life in Hawaii. My new challenge is to get done many important tasks in different areas of my daily life. The time is always tight. Yes, in Paradise Hawaii the time couldn't be more valuable!
Due to the Kilauea Eruption, we lost our business in May 2018. All our plans for life and building of our home needed to go on hold.
After four months of one of the most powerful creation process our time the lava stopped to flow.
In the mid of August 2018, we got back the internet and I started my new business Live up to you! where you are meeting me right now 🙂 Thank you very much for being here together with me and taking advantage of my experiences and teachings I received!!
Why Zen12 is a perfect match for my life? The meditation tracks are only 12 minutes long!! And they are powerful! Altogether the program contains 12 levels, and you have four choices of different tracks you can listen to in your daily meditation.
With this program, you receive plenty of instructions, help, and support. Also coaching calls with Karl Moore, who is the co-creator of that program, are included to every level. In addition, I can look forward to a coaching call with one of the Inspire3 life coach. Inspire3 is the company behind the Zen12 and other programs. More details of my experience with Zen12 you will find soon clicking in the menu Commendations.
The Meditation And Healing Program:
Heal Yourself: The Fast Track
With the Meditation and Healing Program Heal Yourself: The Fast Track I started about two weeks ago. The program contains five audios with brainwave meditation which bring you step-by-step deeper and deeper into the healing process. You will also get a Guidebook with detailed instructions on how the program works, and what impact you can expect and look forward to it.
The first track contains powerful thunderstorm sounds background and I simply love to listen to it. This brainwave and sound meditation includes beautiful calming and refreshing Alpha Brainwaves and makes me feel peaceful, clear-minded, focused and all-around happy with my life; even on very challenging days! I listen to meditation mainly in the early morning.
Ashton Aiden, the owner of Brainwave Love, the website behind the Heal Yourself Program, is an awesome, wonderful, amazing and generous guy, with whom I love to communicate and work together. To know, that Ashton stands behind Heal Yourself is, in my opinion, a big plus for that program.
More details about my experience with Heal Yourself I will share soon with the progress of my self-healing process. You will find the story under the menu Commendations.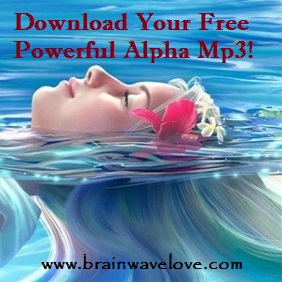 Here is an awesome gift for you!!!
A beautiful Powerful Alpha Mp3 from Brainwave  Love that you instantly can download to your computer or smartphone and use it everywhere where you are. This powerful brainwave meditation is free for you! And it is a must-have!!

 Download Your Free Powerful Alpha Mp3!
The Meditation Program:
The Missing Link
With the Missing Link – a holistic meditation program combining audios with brainwave technology and also meditation techniques and energy body practices – I didn't start yet. However, I had so-to-speak a sneak peek of one month of the program and it goes deep, and it is awesome how it feels in the body and how it changes the energy pattern.
The Missing Link Meditation Program is offering you a fully integrated meditation program for 7 months. That program really grabbed my attention! Why? I have a long personal story with a missing link. For a very long time of my life, I believed there would be a missing link I need to find to change my life and accomplish why I'm here on Gaia. I bet you could tell a similar story of your own. Guess, it could be everybody's story at some point.
However, just several weeks before I found Ashton's website Brainwave Love, I thought again very intensely about the missing link. And suddenly I heard these words in my inner: "There is no missing link." No, I didn't get any additional explanations, only that one sentence. Okay. Little later there it was, Ashton's program, "The Missing Link." So, I'm very curious about that meditation program!
I will share with you more insights soon.
I hope you enjoyed my story with the brainwave supported meditation programs and became curious about the programs. You really should be! Good brainwave meditation programs great accelerators for your personal growth and the four programs I used, I can highly recommend to you. They are great!
So, I hope also you became curious about brainwaves and will utilize that amazing brainwave technology, start your own process and gain all the benefits the programs have to offer.
I would love to read your comment about what do you think and if you would like to try that awesome technology. I'm curious about your first steps or your deeper experiences if you are experienced brainwave technology user.
So, please take a couple of minutes and give me feedback! If you have any questions, please, send them also! I would love to support you on your way!
Please, join me in the next part of the blog.
Until then all the best for you!
Sending you love and light!
Aloha, Jenna
Live up to you!